When I conceptualised this Marsala Wedding and hot chocolate table styled shoot I never thought that it would create so much of a hype. It was featured on Burnett's Boards and the print version of the Wedding Inspirations magazine (Winter 2015) to name but a few.
The colour 'Marsala' was announced as the Pantone colour of the year for 2015. The name 'Marsala' is that of a wine, dry or sweet, produced in the region surrounding the Italian city of Marsala in Sicily with the distinct purple red colour.
This colour is the perfect hue for an autumn or winter wedding and provides a richness to any palette. We opted to add some bright orange and other wintery feel colours to the shoot to create some warmth and excitement. Combining it with the on-trend rose-gold colour – this is the perfect colour palette for a 2015 wedding!
Whilst scouting for the perfect backdrop I initially turned my search to a grapevine of sorts, but when Heleen from Little Honeypot volunteered her house with stone walls, wooden flooring and more, my search was complete. Her side-board provided the perfect space for a Hot-Chocolate table and items from her store we used included some heart bowls and teacup set. A huge thank-you to Boardmans who also allowed us use of products for the shoot that included a lovilee rose-gold tray and jewellery box that we re-purposed for the Hot Chocolate table.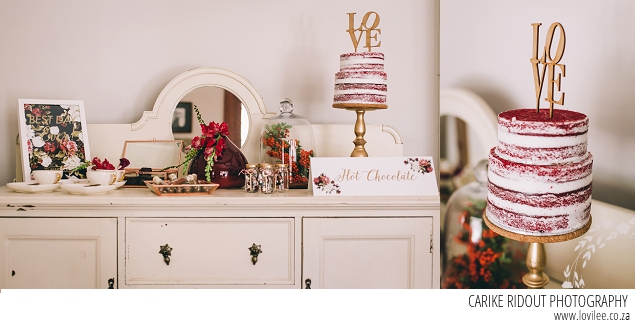 I also created another topper for the cake that we paired with some flowers. What a great idea to use a chalkboard pen to decorate your glass decor with a love poem.
Natja from Garniche Studio did a phenomenal job with the flowers and styled with me. It was amazing working alongside this talented lady and she brought some lovilee geometric shapes along from @Home to use outside with the model. Nadine from Pippa & Polly Cakery based in Pretoria supplied the naked red velvet cake and some other delicious treats. The 'LOVE' cake topper is from That Little Shop.
Gin & Tea, that specialises in custom jewellery, custom made some jewellery items for the shoot. Be sure to check out her on-line store or order some custom items for your bridal party. Our stationary was designed by Hello Dolly and matched the look and feel we aimed for to the T.
My mom knitted a cowl for the day that we used for images outside. Local designer, Elli-Nicole spoilt us with some true eye-candy of her current wedding dress collection that is sure to take any groom's breath away. The Gold glitter hanger is from my store an available for purchase. Hair & make-up was done by Valencia Mcleod, this lady was perfect for the job and we just loved the looks she created!
As favours we included some small glass bottles with old keys that I sprayed gold. The jars were filled with bubbles that you can blow through the top of the key. Also a brilliant idea for confetti. The eating utensils were plastic?! from In Good Company. A big thank you to Carike Ridout, who as usual, took the amazing images for us!
(Visited 365 times, 1 visits today)