Some of you will remember my room make-over that I did using the Evolve paint range? Today I get to share another bedroom makeover by Lovilee and Gauteng photographer, Lerika Photography of her Fox kids bedroom. I just love using this paint and their paint colours for kids rooms are incredible, they range from soft pastels to fun colours that include Lime Soda, Berry Blast and Bubble Gum.
Here with some before images of the room
Lerika shared the inspiration from the room with me before the decorating started. There were the swiss crosses that she really liked from a cushion she purchased from Mr. Price Home and then she also wanted to add the orange fox to the mix. We asked Liezel from Match Set Love for some swiss cross vinyls that we used on the wall and decided on the Lime soda Evolve colour for another wall.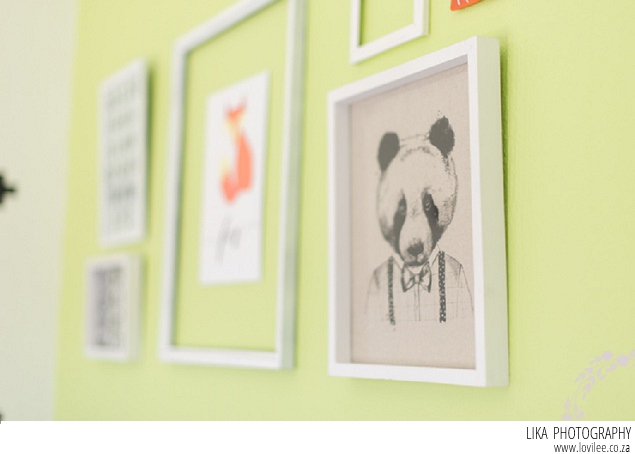 Evolve has a 10-year quality guarantee on its top coat; it's lead and solvent free; Zero VOC; and made from 70% natural organic materials. It's also water-based, low-odour and quick drying: kinder on you and the environment. With one Evolve hampers up for grabs – including paint*, primer, ceiling paint and accessories to get the job done – this is a prize that will "warm" your winter. Evolve is exclusive to Builders Express and Builders Warehouse stores. Visit www.evolvepaints.co.za for details on this ecological solution from Prominent Paints – a PPG Group company.
Other suppliers used included:
Duvet: @home
Swiss cross pillow & striped pillow case: MrPrice Home
Fox pillow: Repurposed Typo bag made by Lerika's mom
Bookshelf: originally made by T's steel design – 082 821 4860
Frames: all up cycled
Artwork: Panda & Small
Fox: typo
Fox print: Etsy
Abc print: Lerika
Checkered print: old gift bag
Light fitting: old lamp shade revamped
Swiss cross vinyls: Match Set Love
on the book shelve – fox & letter 'O': typo
tin car: zimbabwe
Toy basket: Kamersvol Geskenke
Let's get social
Instagram:
@lovilee_za
Twitter:
@lovilee_za
Facebook:
@lovileeblog
or subscribe to never miss out on any new articles
in this link
.