At the end of last year I came up with the idea of a Paper Planes Wedding inspirational shoot. The idea was to do away with flowers all together and just make use of Paper Planes in various sizes and colours for the décor and bouquets. In addition to the unique look I also wanted to show the shoot form more than one perspective, thus making use of two photography pairs, that doubled up for the models on the day! Carolien & Ben and Picture Me & U as well as a few other lovilees agreed to collaborate on this one… and the result?! Well, I was 'blown' away!
A Paper Planes theme is a fun and whimsical theme. You can literally get paper to fold these lovilees in a zillion different colours and also make various kinds of planes. JC from Paper J was up to the challenge and created quite a few of of these for us to use on the day in various sizes. He also did the bouquet arrangements and the paper bow-ties for us and was even there to set the planes hanging from the ceiling up on the day. Paper J specialises in paper wedding, event and home décor. They re-use old books and paper to create brand new products.




I opted for the on trend, retro colour scheme, consisting of black, white, yellow and silver/grey. I am in love with this palette at the moment and one can see the trend in quite a few of the décor and clothing stores. One of the key elements of the shoot was the cake created by Pippa & Polly party and event creations. Nadine wowed us with her creation with the patterns bold and perfectly matching the theme. She was also responsible for the cute paper plane cookies that we used as guest 'favours'.


Our pretty cake topper was the creation of Gin & Tee who also custom designed and made the brooches, earrings, necklaces and cuff-links for the shoot. Gin & Tee is a South African; Johannesburg based jewellery design and manufacturing brand, started in 2013 by Lead Designer Mary-Jean Treloar.
Taking inspiration mostly from the romantic contrast of mixed metals, geometric forms, Africa and bold spots of colour. Gin & Tee jewellery comprises of a range of materials from white oak wood and gemstones to sterling silver, brass and copper.

One of Gin & Tee's specialities is doing custom Jewellery for weddings and events, from bridesmaids' gifts, to cufflinks for grooms and groomsmen. It's always special to give something unique, handmade and thoughtful to those close to you on your wedding day. We also do Laser cut table décor and love to work side by side with the Wedding couple or events organiser to ensure that we deliver something special, personal and unique."




The Venue, 3rd Place, Storyspace, 525 Duncan Street, Hatfield was the perfect backdrop to the shoot. With it black walls, naked ceilings, wooden benches and just space, it was lovilee! I opted for a simple table set-up, a romantic setting for two on a long table decorated with a chevron runner, with scrapbook pages as place mats. Mariaan from M.Studio designed the invites and stationary we used on the table. M.Studio also supplied us with the paper straws, bakers twine, drink bottles and wooden utensils. Mariaan is both a designer & photographer who specialises in graphic design and branding, wedding & event stationary and also has a small on-line store.



I created the woollen covered bottles, also featured on the KykNET Waardevol program. To make you will need some old bottles in various shapes and sizes, craft glue and wool. Spread the glue on the bottle, starting from the bottom, wind the wool around the bottle working your way up. Allow to dry.


Photographer pairs, Carolien & Ben and Picture Me&U doubled up as the models for the day, photographing each other in turn. Carolien & Ben have been photographing love stories for over five years already, capturing special days with technical excellence and personal involvement. They were fun to work with on either side of the camera and made for some lovilee pictures!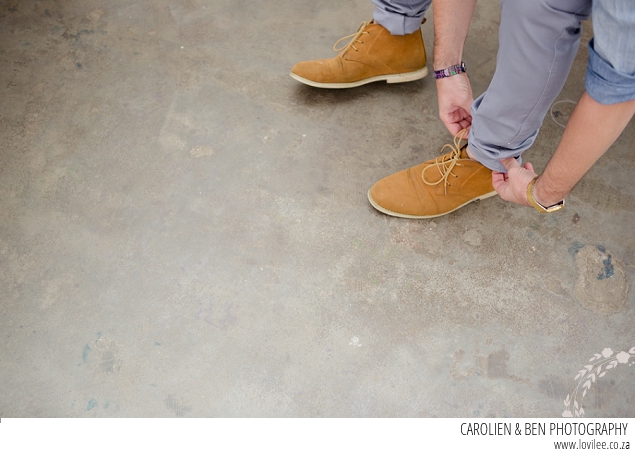 Mariaan & Werner from Picture Me&U are International destination wedding and portrait photographers. They love telling stories with their pictures and did just that with their images on the day! They are a talented couple that compliment each other in so many ways. Mariaan assisted with both the styling and plenty more on the day!
The lovilees from Photoblox created a set of custom 'bride' and 'groom' hangers for us. The hangers are simply lovilee and can be ordered in a variety of colours. They are just part of a range of innovative and unique products that they have available.
Local designer, ELLI-NICOLE supplied us with four breathtaking dresses. This lovilee lady's work has been seen internationally and is truly something to behold! The brand ELLI-NICOLE is focused on creating clothing that embodies sophistication and luxury balanced with a slight edge and whimsy. "I want my clothing to inspire women and allow them to express their individualism and confidence."


Hair:
Ilana from Cosmetiek was responsible for the make-up and also assisted with the nail painting on the day. Cosmetiek specialises in bridal make-up, special occasions make-up and fun-filled, hands-on, make-up workshops to ladies of all ages. They only make use of the finest quality products from leading cosmetic houses such as Kryolan and MAC ensuring a high standard of excellence. Follicle Hair Was responsible for the hair on the day, they are based on Brooklyn and is dedicated to consistently providing high customer satisfaction by accommodating their clients' very different lifestyles and needs – from hair, nails, make up, skincare and fashion to image consulting. They nailed the brief perfectly!


Tomorrow we will be sharing part 2 of the shoot by Picture Me & U with models, Carolien & Ben!
Let's get social
Instagram:
@lovilee_za
Twitter:
@lovilee_za
Facebook:
@lovileeblog
or subscribe to never miss out on any new articles
in this link
.